Stephen McDonald:
University Partnership
Stephen McDonald earns his MBA from Lake Erie College the same day his youngest child earns her master's degree, too

More than 30 years separate father and daughter. Each belonging to generations so characteristically different there's a millennial in between. But Stephen and Myah McDonald's bond is undeniable. And part of that closeness stems from intertwined educational lives. Both chose to build their academic foundations at Lorain County Community College. And on May 13, both will complete their journeys by earning their master's degrees. Stephen, 55, is earning his Master of Business Administration through LCCC's University Partnership with Lake Erie College and Myah, 23, is earning her Master of Accounting from Baldwin Wallace University.
Stephen's LCCC connection dates back well before his youngest child, Myah, was born. He was a Ford Ohio Assembly Plant "legacy" working alongside his father, who was a skilled tradesperson. Stephen had originally wanted to be an accountant, but it was the early 1990s and the banking crisis was still causing bank closures nationwide.
"I went in to work one day at the bank, and I saw a husband and wife, who both worked in the same department, walk in and then walk right back out with pink slips," he recalls. "I was ready to get married and start a family, but I was scared."
That's when Stephen's father suggested a job at Ford.
"He told to me, 'Just come out to the plant and you can figure it out,'" Stephen says. "He told me Ford had great benefits and good pay and that I didn't have to stay there forever."
Stephen followed his dad's advice and in 1992 began working on the assembly line. He also took Ford's apprenticeship test, scoring sixth out of 800 employees. The rest, he says, "is history."
After four years, Stephen's number was called to enter Ford's apprenticeship program. Once again heeding the advice of his father, Stephen chose the electrician program. His classes were taught at LCCC, where he completed his journeyman electrician certification.
Stephen says going through the apprenticeship program gave him a taste of education that remained with him throughout his years at Ford. At that time though, his education goals were tied to immediate pay scale needs.
"My wife and I wanted to provide our kids a good life, and move into a good neighborhood with good schools," he says. "I went through the electrician apprenticeship program to provide all the different things that come with raising children. And we did that."
But as he and his children got older, Stephen's perspective began to change.
"I started thinking that being an electrician is a great career, but I want to do more," he says.
Building on the foundation set through the apprenticeship program, Stephen took the last few classes he needed to earn his associate of science degree from LCCC in 2014. Then, he and an academic advisor mapped out a plan to earn his bachelor's degree.
"I knew I wasn't stopping with my associate degree, but I didn't know what I wanted to go into," he says.
After some discussion with his advisor, Stephen decided on Ohio University's Bachelor of Technical and Applied Studies through LCCC's University Partnership. The University Partnership program offers more than 100 bachelor's and master's degrees from 15 partner colleges and universities from the LCCC campus. Due to his position in operations management at Ford, Stephen knew the academic program would further his career while its delivery though the University Partnership would enable him to balance being a student, employee and father.
"The University Partnership is geared to people in my situation," he says. "I'm in the middle of my career, I have some work experience and some college experience."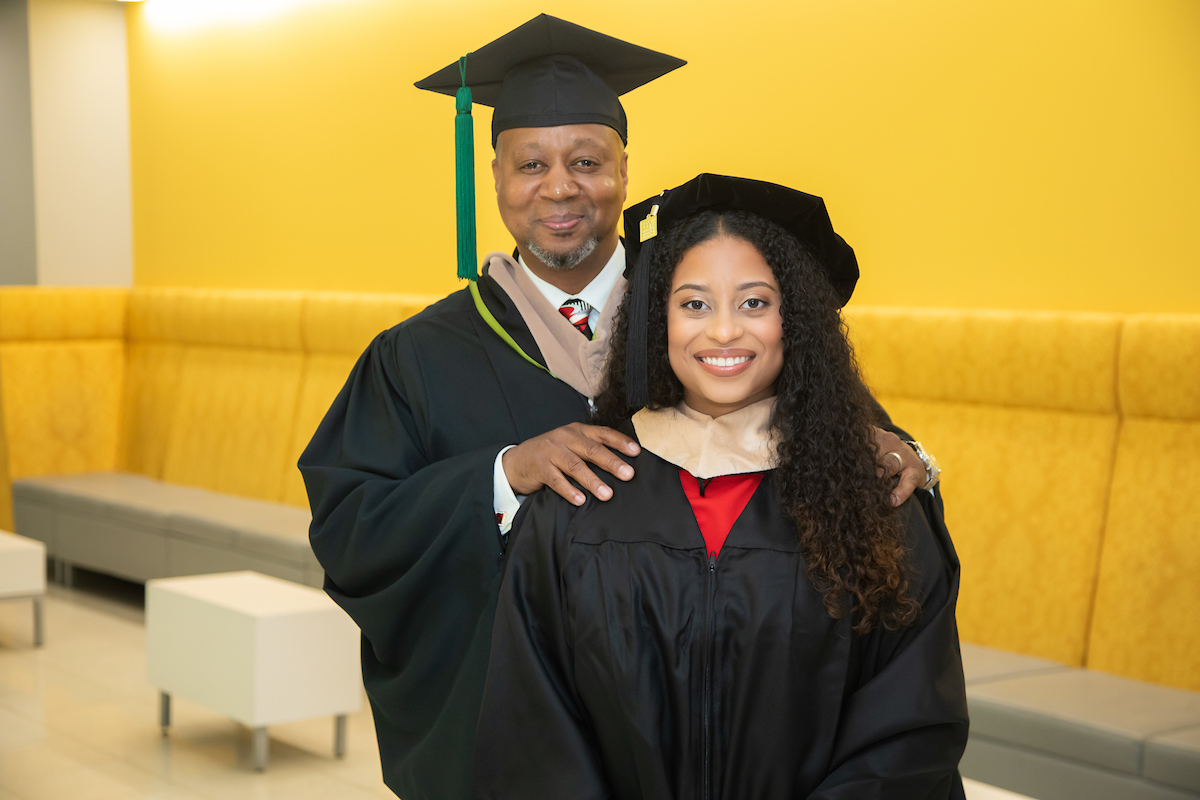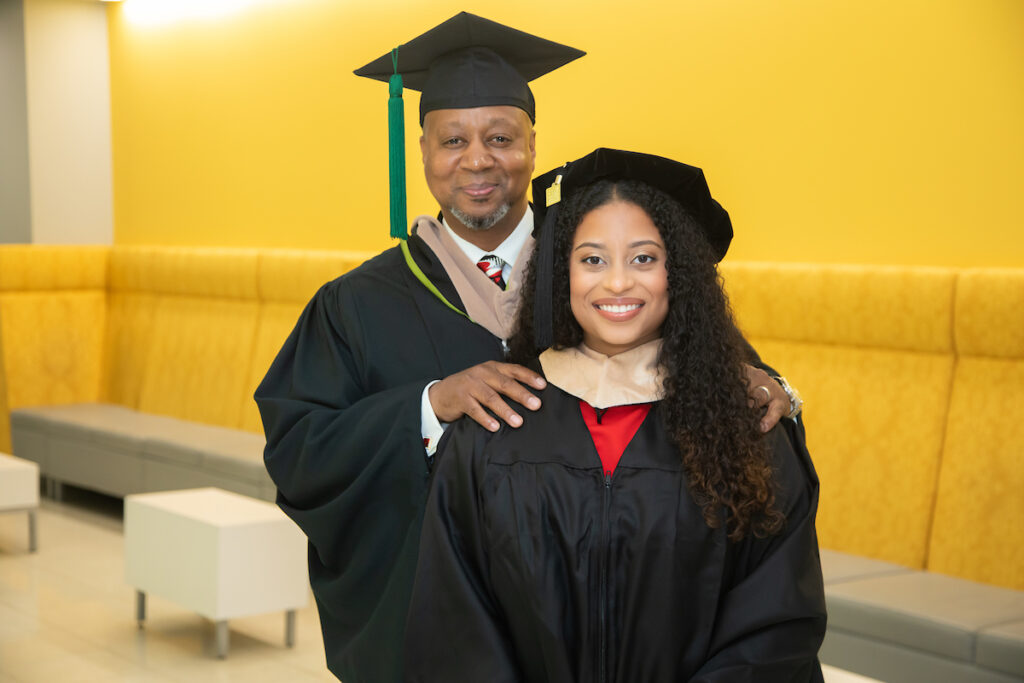 As Stephen completed the bachelor's degree program through Ohio University in 2018, Myah was graduating from Avon High School with 13 LCCC credits through the College Credit Plus program. CCP allows students to earn college credits while in high school, all for free.
"I got ahead of the game," she says. "That was my goal from the jump."
And just as her dad heeded his dad's advice, Myah listened to Stephen and attended LCCC after high school.
"Both my parents said go to community college, get your associate degree, and you won't have to worry about debt," she says. "And that was huge."
Myah immersed herself in LCCC's athletic offerings, playing volleyball and basketball. And in 2020 she graduated – debt-free – with her associate of arts degree and a short-term certificate in general business administration.
"I wanted to be financially stable throughout life and student loans are a huge financial burden," she says.
Her parents are familiar with that burden,
"Myah listened to me and her mom," Stephen says. "We both have some student loans and we've always been open and talked to her about finances and about the importance of remaining as debt free as possible."
Stephen added that with LCCC, the opportunity to do that was "literally right around the corner."
In 2020, Myah transferred to Baldwin Wallace and began working toward her bachelor's degree and then her master's in business and accounting. And as she did, her father was enrolling in yet another University Partnership program – this time to earn his Master of Business Administration from Lake Erie College. After attending a family member's commencement ceremony and seeing the master's degree candidates march across the stage in their signatory hooded regalia, he knew a master's degree was in his future too. And earning that degree, as well as those earned prior, has directly impacted his job at Ford.
"Having advanced degrees has increased my management skills, technical thinking and has given me the opportunity to advance in my career," Stephen says.
The most recent opportunity came when Stephen, now a Process Coach who supervises three production lines and a maintenance team, was asked to become a representative for Ford's Joint Apprenticeship Committee. In this role, Stephen will guide new apprentices through the program, which will likely bring him back to LCCC. He'll act as a liaison between LCCC faculty, The International Brotherhood of Electrical Workers (I.B.E.W), and Ford to make sure the apprenticeship courses align with the company's evolving needs.
"My name came up as an electrician, but I think my education helped confirm that I would be able to serve in that capacity," he says.
Making the right decision
While Stephen will be on the LCCC campus often as part of the Joint Apprenticeship Committee, he will not be here for the May 13th commencement ceremony where he'll earn his Master of Business Administration from Lake Erie College. Instead, Stephen will be at Baldwin Wallace University watching as his youngest earn her master's degree.
"I think I made the right decision," he says of missing his own ceremony.
Something Stephen, and Myah, will never miss is an opportunity to share their experiences and encouragement with their own generations. Stephen is quick to say, "it's never too late."
"I would tell anybody even thinking about continuing their education, to jump in there and go for it," he says. "There's never an ideal time to start school, but take one step at a time and you can get it done."
As for Myah, she has a message of grace for her generation.
"You're doing fine; stop stressing," she says. "You're on the right path, doing what you should be doing. As long as you're moving your education forward – in whatever way is right for you – you're doing fine."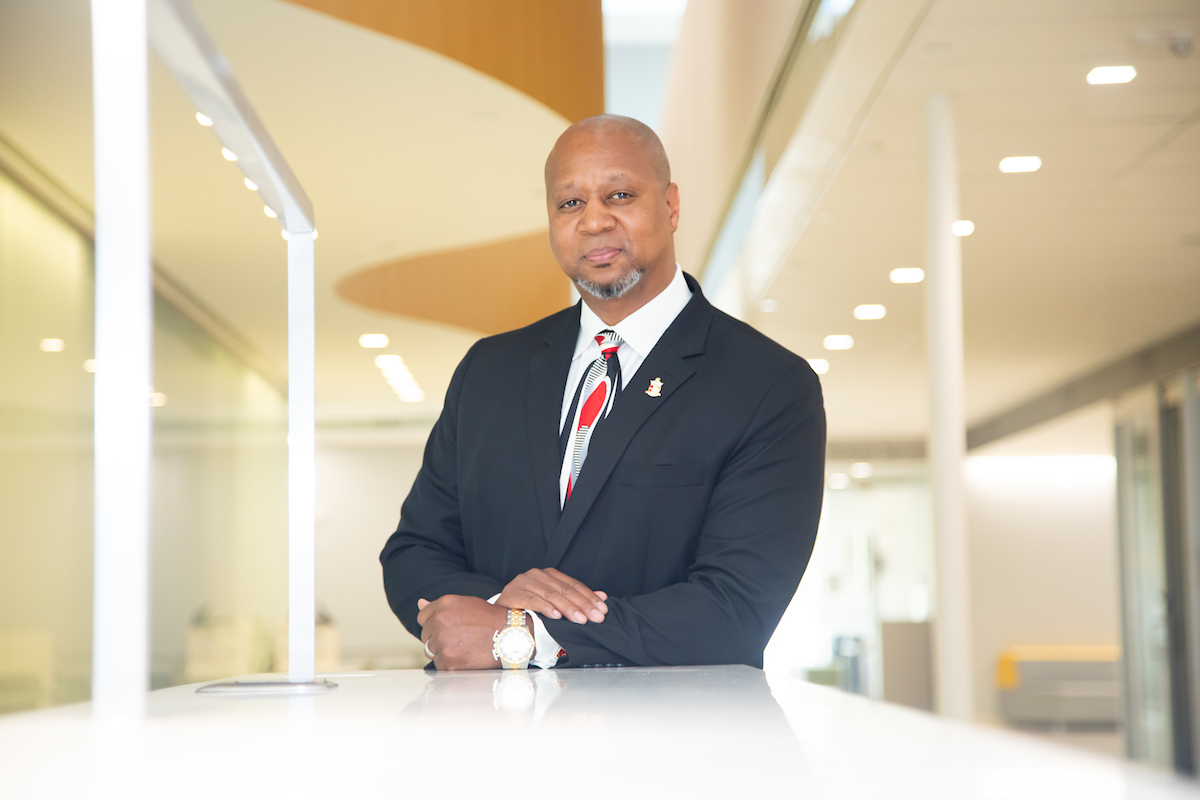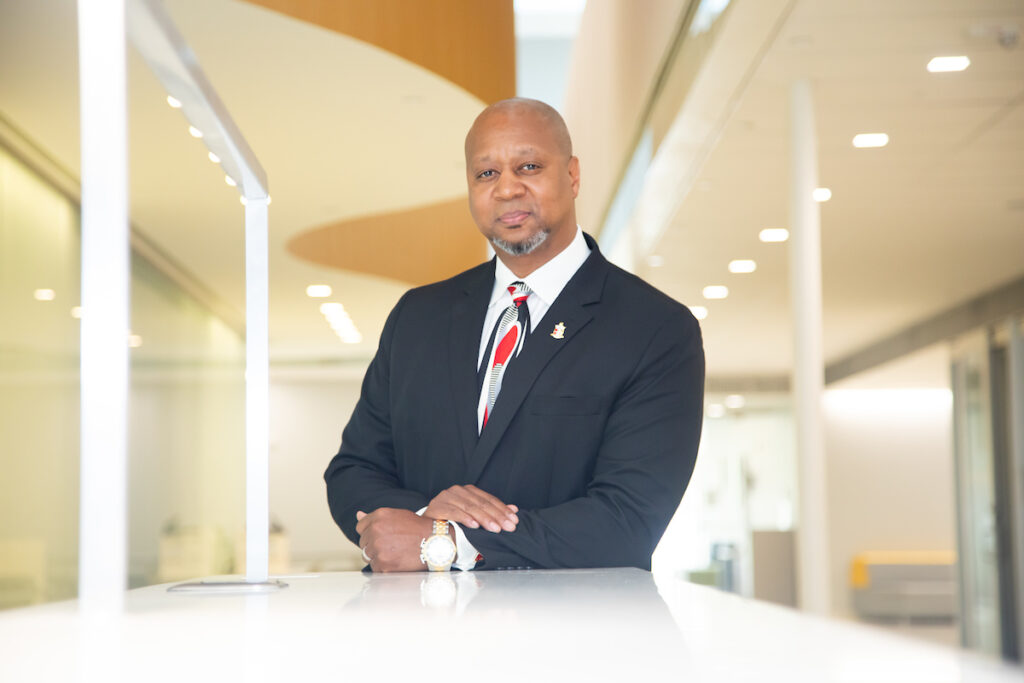 "Having advanced degrees has increased my management skills, technical thinking and has given me the opportunity to advance in my career." 
Stephen McDonald, 2023 LCCC University Partnership graduate