Kathryn Gardner:
University Partnership
How Kathryn Gardner overcame life's challenges to earn her bachelor's degree and set a positive example for her son

The list of barriers Kathryn Gardner overcame to earn her Bachelor of Arts in Psychology on May 13 is long. Among them, a 20-year schooling hiatus, two car accidents, a pandemic, and countless moments of self-doubt. But Kathryn persisted through it all, earning her degree from Cleveland State University, through Lorain County Community College's University Partnership. She did so for herself and her son.  
Kathryn began at LCCC after graduating from North Ridgeville High School in 1998. But back injuries from a bad car accident brought an abrupt end to her education.  
"I couldn't sit at the desks," she says. "This was 25 years ago, before we had this online option that exists now." 
She decided to take one semester off. But then Kathryn says, "life happened." She moved to Michigan. She got married. And she had a son.  
"As my life's progressing, it's always in my head that I want to go back to school," she says.  
Then, Kathryn's son Owen was diagnosed at age three with autism spectrum disorder, a neurological and developmental disorder that affects how people interact with others, communicate, learn, and behave. Her life seemed to pause, and then re-start with laser-sharp focus.  
"I wanted to learn as much as I could so I could speak intelligently about and better understand my child," Kathryn says. "So, I dove into a rabbit hole of research." 
That research led to Owen participating in an intensive study on how to perform autism assessments. And Kathryn, who had always had an interest in psychology-related academia and research, saw the innerworkings of psychological research studies and their real-life applications.   
"All of this rekindled my love of psychology research because my research led to positive interactions with the medical professionals and positive outcomes for my son," she says. "I learned along the way, asked questions, and applied concepts." 
Owen began excelling in school, despite the many teachers who told Kathryn not to set high expectations for him.  
"We were told he's not going to graduate; he's not going to get a job; he's not going to be self-sufficient," she recalls. "I didn't accept that, I said, 'No, we're going to create equity so he can outperform the expectations that schools set for him.'" 
As Owen thrived, a college return made its way to the forefront of Kathryn's mind. Then, in 2020 the pandemic upended every aspect of Kathryn and Owen's lives. In its wake, COVID left an unsustainable life situation centered around Kathryn's job loss. It was time for a big change.  
"Owen asked me what I wanted to do," she says. "I told him that in a perfect world, I go back to school. But to do that we need to move." 
Kathryn and Owen left Michigan and moved into Kathryn's parents' home in North Ridgeville. After getting Owen, who was 15 at the time, situated in his new high school, Kathryn reached out to LCCC to see where she left off. Turns out she was only four classes away from an associate degree. Kathryn knocked out those classes, but she knew she wouldn't stop there. 
"I hit the ground running with my return," she says. "I earned my associate degree and thought, 'Now what?' I wanted to earn my bachelor's degree and I wanted to know what I'd do after that." 
Kathryn applied to Cleveland State University through LCCC's University Partnership program, which offers more than 100 bachelor's and master's degree programs from 15 four-year colleges and universities. She says the University Partnership made returning to college in her 40s affordable and convenient.  
"One of my favorite aspects of the University Partnership program is that it allows students to take their junior and senior year courses in the more intimate and engaging classroom environment at LCCC," Kathryn says. "The convenience allowed me to make every hockey practice and game that my son had, which was a huge priority in our world." 
And Kathryn's immersion in the Cleveland State University psychology program, taught by both CSU and LCCC professors, gave her a renewed passion for the field. She joined Psi Beta, a national honor society for psychology students attending two-year colleges, and soon after became secretary and then vice president of the LCCC chapter.  
"Psi Beta brought a world of opportunities," she says. "It gives undergraduate students an opportunity to conduct their own research in an area they're interested in." 
Kathryn was part of an LCCC team that presented research at the American Psychological Association's 2022 Conference in Minneapolis.  
But three months before the conference, life threw another devastating, but familiar twist Kathryn's way. She was in a second car accident while driving back from a Michigan trip. But this time, Kathryn was equipped with the confidence that comes with living life and she chose a different outcome. 
"I had already let one car accident derail my education," she says. "Been there, done that, got the t-shirt. I wasn't letting that happen again." 
Kathryn made it to the conference and helped present the team's research poster, "Cultivating College Connectedness and Satisfaction Across College Course Modalities." Their research explored the factors thought to determine whether students feel connection with their college campus. These factors included course delivery methods, students' mental well-being, shyness, and extraversion. 
"Our findings indicated that regardless of modality, which means online or in-person delivery, students experience similar course satisfaction and college connectedness," Kathryn says.  
The experience presenting at the American Psychological Association conference was priceless.  
"Interactive experiences like these lead to opportunities for publication, even as an undergraduate," Kathryn says. "Our Psi Beta research projects and publications will be used to bring equity to psychology students nationwide at two-year institutions, which unlocks opportunities for others." 
This May, Kathryn graduated, unlocking her own opportunities. And she wasn't the only one. Owen, now nearly 18, graduated from North Ridgeville High School and earned a certification in HVAC from the Lorain County Joint Vocational School.  
"It's like we're doing this together. It wasn't planned, but the pieces fell into place," she says." 
As for her future, Kathryn has applied to three different Cleveland State University graduate programs – the Master of Arts in Psychological Science program, the Master of Arts in Clinical Psychology program, and the Adult Development and Aging Doctoral program. Whichever graduate program she lands in, Kathryn will continue researching for the benefit of others. Because she and Owen both benefited from the research of others.  
"I want to be able to share the science and educate others, just like I was able to educate myself about my son's diagnosis," she says. "Science and research matter because that's what drives advancements. It helps progress happen in our society as a whole."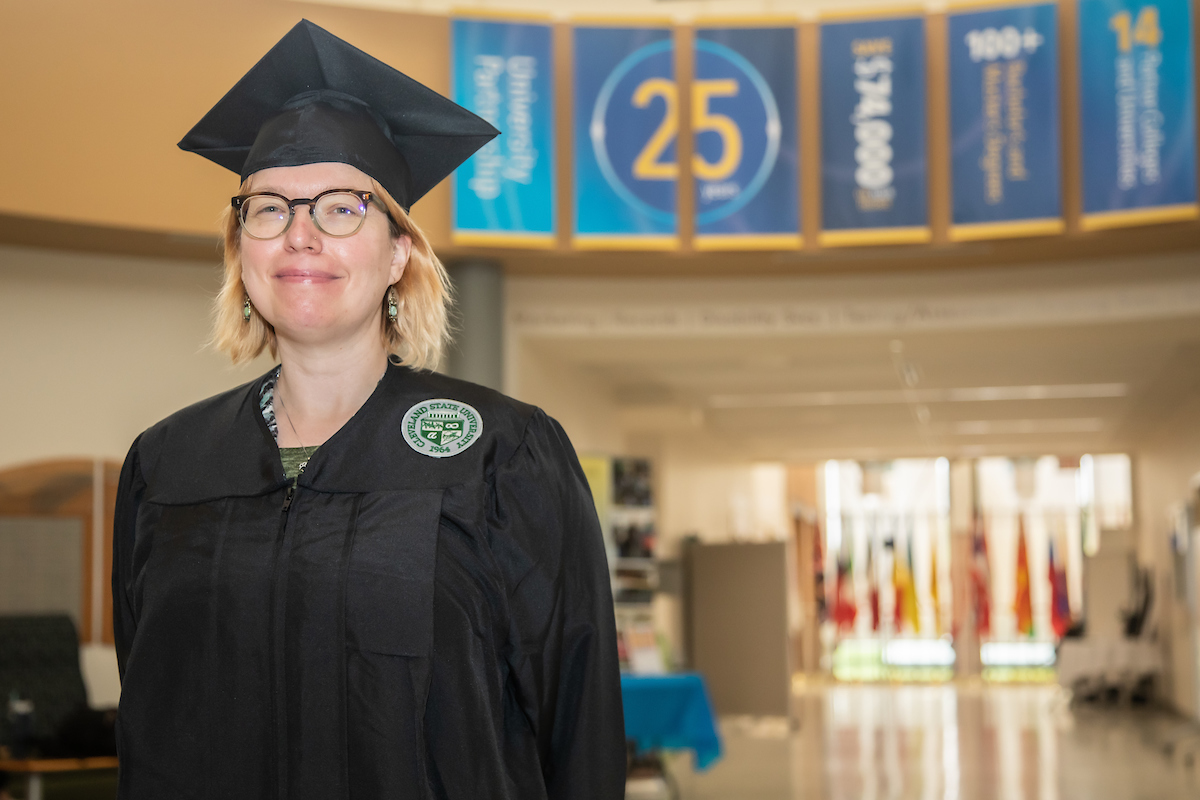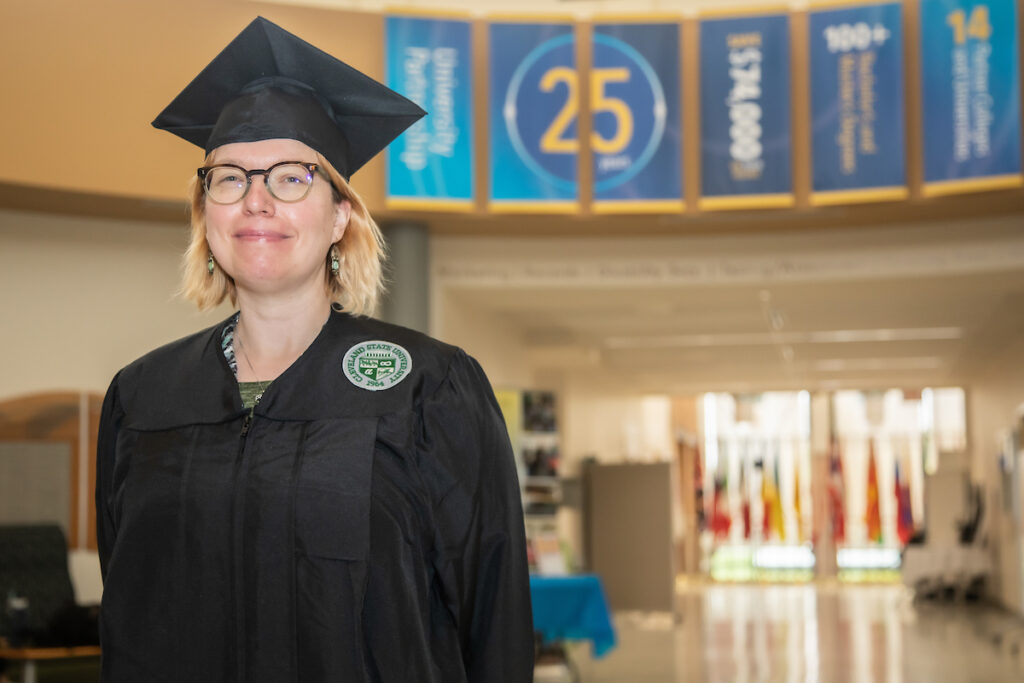 "One of my favorite aspects of the University Partnership program is that it allows students to take their junior and senior year courses in the more intimate and engaging classroom environment at LCCC." 
Kathryn Gardner, 2023 LCCC University Partnership graduate